IPHVSS - Intelligent port/harbor video surveillance system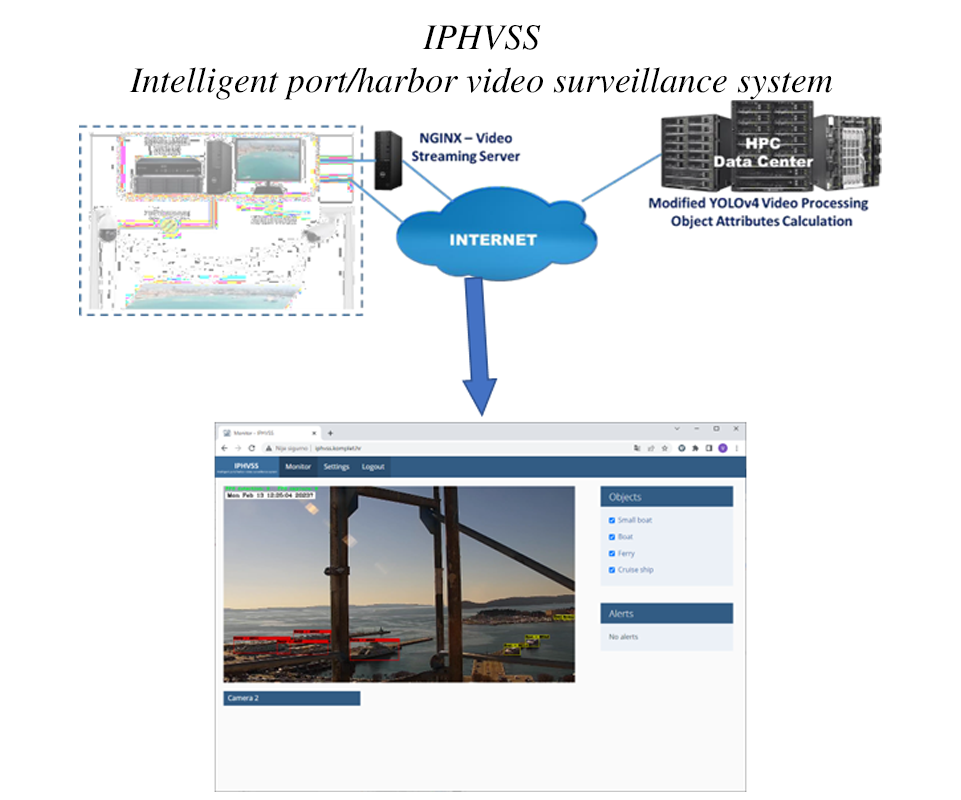 Only at the Croatian coast there are 6 ports of international importance, 45 small local ports, as well as 185 ports devoted to nautical tourism with a total turnover of over 200,000 vessels. There is a strong seasonal character of maritime traffic in which many inexperienced and sometimes irresponsible mariners participate. Prohibited behaviours such as speeding, anchoring and mooring on not allowed locations are a serious security problem.
Each port is equipped with a video surveillance system. Typical small/medium port surveillance system consists of a number of surveillance cameras (fixed, PTZ) with or without zoom. Acquired videos are recorded and stored locally on disk subsystem that according to capacity store several weeks or months period. Depending on implementation video is also available on-line via Internet.
From surveillance camera in Split harbour we gather more than 1000 hours of video. Videos were collected in different time of day and under various conditions and harbour traffic. We used same labelling tools as for image and video labeling and created 200 short videos and created labelled dataset ready for YOLO detection and tracking. For testing purposes, we needed boat images from different perspective. We gather images of boats from different perspective using drone. Dataset consisting of 50 boats, each shoot from 50 perspectives for Deep SORT training purpose was built.
Port video surveillance system could be extended with smart computer vision software based on deep CNN to detect the aforementioned activities, record them and notify by various possible channels people in charge. The software could be run in cloud. Such approach avoids the procurement, installation and maintenance of expensive equipment unaffordable to small ports. Such solution offers a cost-effective solution that could be easy and quickly implemented and would relieve the already deficient staff in small ports.
On-line video from surveillance system is, depending on its capabilities directly or via NGINX server broadcast to our HPC/Data Center for processing and event storage. Video is processed, with modified pertained on YOLOv4 algorithm for object detection and localization within the region of interest. Behavior (attributes: velocity, anchoring or mooring ) of the objects should be evaluated.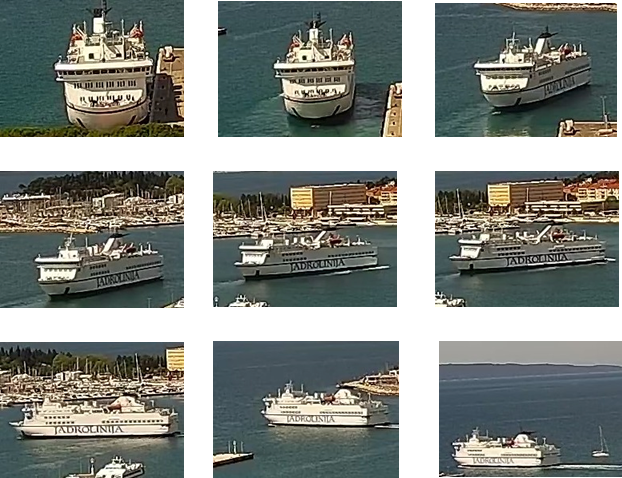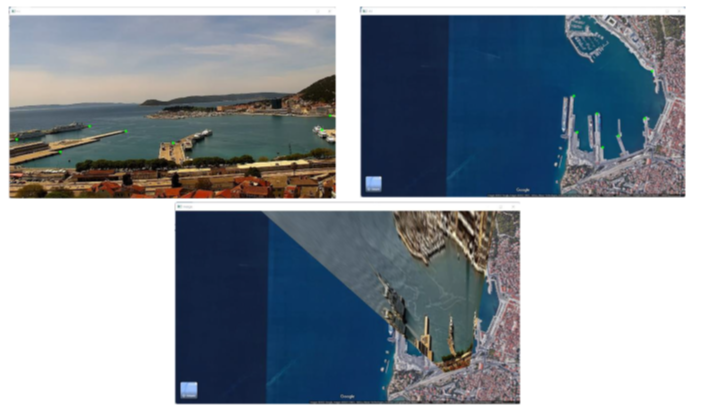 To get the speed of the ships, it is important to know their position in the real world, as well as the distance they have travelled. First, to know their real position, it is necessary to make a calibration image. To do this, recovered an image from the surveillance camera of the port and a satellite image collected using Google map.
Project was done by
Komplet sistem d.o.o.
with support of
Blue European Digital Innovation Hub (Bluedih)
IoT Digital Innovation Hub
http://iphvss.komplet.hr
If you are interested in application, you can contact us: